March 2013
Tax refund season and gun shows. All the more reason to pick up a rod and reel and go fishing.
Ever since this past November, even pre-election, the country has gone crazy for MSR's (military style rifles, including AR's and AK's), pistols, and the assorted ammo and accessories to go along with them. Retailers don't have your .22 ammo, 9mm ammo, .40 ammo. What they do get in is regulated, so you can only buy one or two boxes of each. High capacity magazines were in such high demand that a $16 P-Mag was selling for $80 on a popular trading website.
There are still a lot of you who have not done your taxes yet, and many of you will still be getting your refunds in the mail, or direct deposited in the next couple weeks or months. There is still time!!! Yes, there is still time to spend that money on something ELSE.
I am pro-second amendment, don't get me wrong. I am far from anti-gun. Guns are not the problem in my opinion, but I am not going to get into what could end up being a lengthy opinion on the politics of gun control. Briefly stated, I agree with the t-shirts and bumper stickers that say "Gun Control means using both hands," and "Guns have two enemies, rust and politicians," and finally, "My front door is not locked for my protection, it's locked for yours."
Even those of you who were fortunate enough to grab an AR and some ammo while it was in stock, I'm hoping you put a little of your refund money aside on something that is about to hit faster than you can say "blooming dogwoods."
The weather is warming up, the pollen is about to fly, and those seven to ten pounders will be soon cruising the shallows. Last I checked, there was no limit on 3/0 offset-shank worm hooks and 3/8 oz. True Tungsten bullet weights. The sporting goods stores shelves are loaded with lipless crank baits, crawfish-colored shad raps, and my personal favorite, the versatile Chatterbait. Waiting for the actual spawn? That's fine because there are a lot of white Zoom lizards, suspending jerk baits, reaction-bite inducing frogs, and more than likely insert-your-favorite-sight-fishing-bait-here hanging on the pegs at your local fishing store. It's fishing season, and there are loads and loads of new products from all your favorite companies; Abu Garcia, Lews, Cashion, Strike King, Spro, Rapala, Berkley, Fish Stalker, and many, many more just waiting to be plucked off the shelves.
While your buddy is over in the gun department looking for guns and ammo that is months, even years behind at the production level, you can be buying up all the good stuff in the fishing department that will fill your live-well with more and bigger fish.
It's okay that the ammo is all gone for now. It's illegal to shoot fish anyway.
---
January 2013
Jack Lemmon, Walter Matthau, Ann-Margaret… and Wabasha, Minnesota. Can you name the movie? If you can't name it, or if you haven't even seen it, I suggest that in between your excursions to the lake you rent Grumpy Old Men. Aside from enjoying it for being a great flick, you may come up with your own reasons why the men in this movie are so grumpy. I'd like to think it all boils down to one thing. It's the middle of winter, and the only kind of fishing you can do in Minnesota in the winter is ice fishing.
Now there are many native Northerners who will disagree with me. Many people LOVE ice fishing. There are even ice fishing tournaments. But do you know how hard it is to throw a buzz bait or lipless crank ice fishing? Those holes are hard to hit.
My experiences ice fishing did not include a heated shack and they usually ended with me not catching a single fish (okay, so my fishing excursions in South Carolina finish similarly, but that is beside the point). Picture yourself sitting on a five gallon bucket in the elements- below zero elements, with an 18 inch fishing pole and a wax worm on a hook dangling below a circle of water. You do get to stay busy though, because in the other Thinsulate gloved hand you have a specialized wire or plastic slotted spoon looking instrument called an ice skimmer, since every few minutes you get to take the newly frozen ice off the top of your little world that is that 10 inch hole in the ice. All of this is after breaking a sweat while punching a hole through the ice with a metal rod, because not everyone owns an ice auger.
There are still a few months before the spring fishing boom hits the lake. The fishing may be slow, but look on the bright side. You live in South Carolina where there isn't a shanty within 500 miles, 5 gallon buckets are used for dove hunting, and the only ice you need to worry about are the cubes hitting your teeth as you drink the last of your of sweet tea. So go hit the lake, and when you crank up the motor to your boat, be thankful you aren't cranking up an auger. Get out there and fish. Leave the grumpy up in Wabasha with Jack and Walter.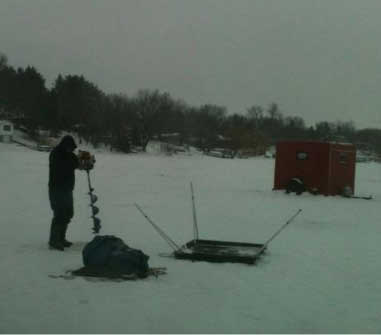 ---
June 2011
Greetings fellow South Carolinians!
That is, if you will have me. I have been honored to be given the opportunity to contribute to this web site on a periodic, yet regular basis. But before I begin my regular contributions, I thought it only fair that you know a little bit about me.
My name is JD Sydow , affectionately called "Hoser" by my friends and co-workers, due to the fact that I lived most of my life in Wisconsin. My accent just doesn't really fit down here. If you heard me talk, you'd pick me out of a crowd right away. I also should let you know… I hate South Carolina.
Now that I have your attention, allow me to clarify. That is somewhat of a lie. I hatED South Carolina the first two years I lived here. Having moved to Spokane, Washington and traveling the beautiful Northwest after college, with no humidity, no mosquitoes, and excellent downhill skiing, the prospect of moving to South Carolina was less than entertaining. Those of you, if you have ever been in my situation, will know that the persuasion of the one you love will make you blind to all else. I became engaged to a wonderful southern belle named Blair, moved here in July of '03 and was married in June of '04. We now have a three year old southern belle-to-be named Maggie and daughter number two on the way in four weeks.
I have now been here for nearly 8 years, and as you recall, I hated it here for two years. Hot. Humid. What in the world is a Gamecock? What do you mean I have to travel to Atlanta for a Major League baseball game? At least I found a group of Green Bay Packer fans. What did it? What made me a South Carolinian?
I've loved fishing my whole life. I didn't get to do much of it… until about six years ago. I had just changed jobs and now work at a local sporting goods store. Right up my alley. One of my coworkers grabs me and says, "Let me take you fishing on Lake Murray." I was a Lake Murray rookie. I didn't even take a bait caster with me. I went 6 hours without a bite. Finally on a shaky-head, she hit. Not a trophy by South Carolina standards, but many of you haven't fished extensively in Wisconsin your whole life. It was a trophy by MY standards. When I pulled her in the boat she weight just shy of five pounds. My buddy tells me, "There are plenty more a lot bigger than her out here."
THAT is the day I became a South Carolinian. I may be relatively new to the state and the area, but I'm here to stay.
Why was I asked to write for this website? I hope to give all of you that renewed look into your state and your area… I mean, OUR state and OUR area. You may have been here your whole life. For some that may mean 15 years, for others closer to 80 perhaps. Sometimes it's nice to get a view of something from eyes that aren't familiar with the territory, so you can sit back and say, "Oh yeah, I remember feeling like that the first time." Perhaps I can bring you back just a little, give you that sense of appreciation that I feel now that I have had the chance to live the life, even if it has been just for a short while, of a South Carolinian.
And I don't plan on going anywhere else anytime soon.